New A1A systems include Rhino Signal Booster™ for superior signal coverage!
With a large, beautiful display, the TireMinder® A1A tire pressure monitoring system is engineered to be a simple, yet powerful tool for monitoring tire conditions, no matter where the road takes you.
Just like the original State Road A1A, the TireMinder® A1A allows you to sit back and relax, winding through all of the hidden paths, while knowing your vehicle is in good hands.
The A1A features straightforward visual alerts, as well as powerful audible alerts, with easy to understand icons to know exactly what type of issue is occurring and where. From boat trailer to coach, the A1A monitors up to 22 tire positions, at up to 232 PSI, covering "all that you haul." Each one of those positions also updates on a consistent 4 minute update cycle. Not only do you get updated readings every four minutes, but the device also performs self-diagnostics every 6 seconds to instantly warn of unstable tire conditions. Besides pressure, the A1A will immediately alert if the internal tire temperature rises above 167 °F.
It also features a single action search mode which pushes updates to the monitor in less than 10 minutes. The A1A also offers front or rear disconnect modes. Separating a towing vehicle from a towed trailer, 5th wheel, car, etc., is quick and easy. A simple press of two buttons allows for temporary disconnect as well as reconnect when the two pieces are re-united.
The TM-A1A kits come with a booster (to eliminate electronic interference) 4 or 6 screw on transmitters, and much, much more (extra batteries, "O" rings, bracket, locks, pouch, free lithium battery exchange program and unlimited "live" phone/email support. TireMinder®, the multi-year gold medal award winning TPMS!
Highlights:
Large, beautiful display (40% LARGER than previous models!)
Monitors up to 22 tires (0-232 PSI)
0.5 oz. transmitters screw on valve stems
Display PSI and temperature for each tire
Visual and audible high/low pressure alarms
BLOW-OUT ALARMS
Transmitters have REPLACEABLE batteries
Rechargeable monitor with battery indicator
Single action memory delete
Front or rear disconnect modes
Rapid connect
Re-set and automatic search
Kit Contents:
1 TireMinder A1A monitor
6 Transmitters
1 Rhino Signal Booster
1 Adjustable mounting bracket
1 Micro USB car charger
6 Anti-theft locking nuts
1 Locking wrench with valve core tool
6 Extra O-rings
12 CR1632 batteries
1 Convenient carry-all pouch
One year warranty registration card
Installation Video:
TireMinder A1A Layout Options: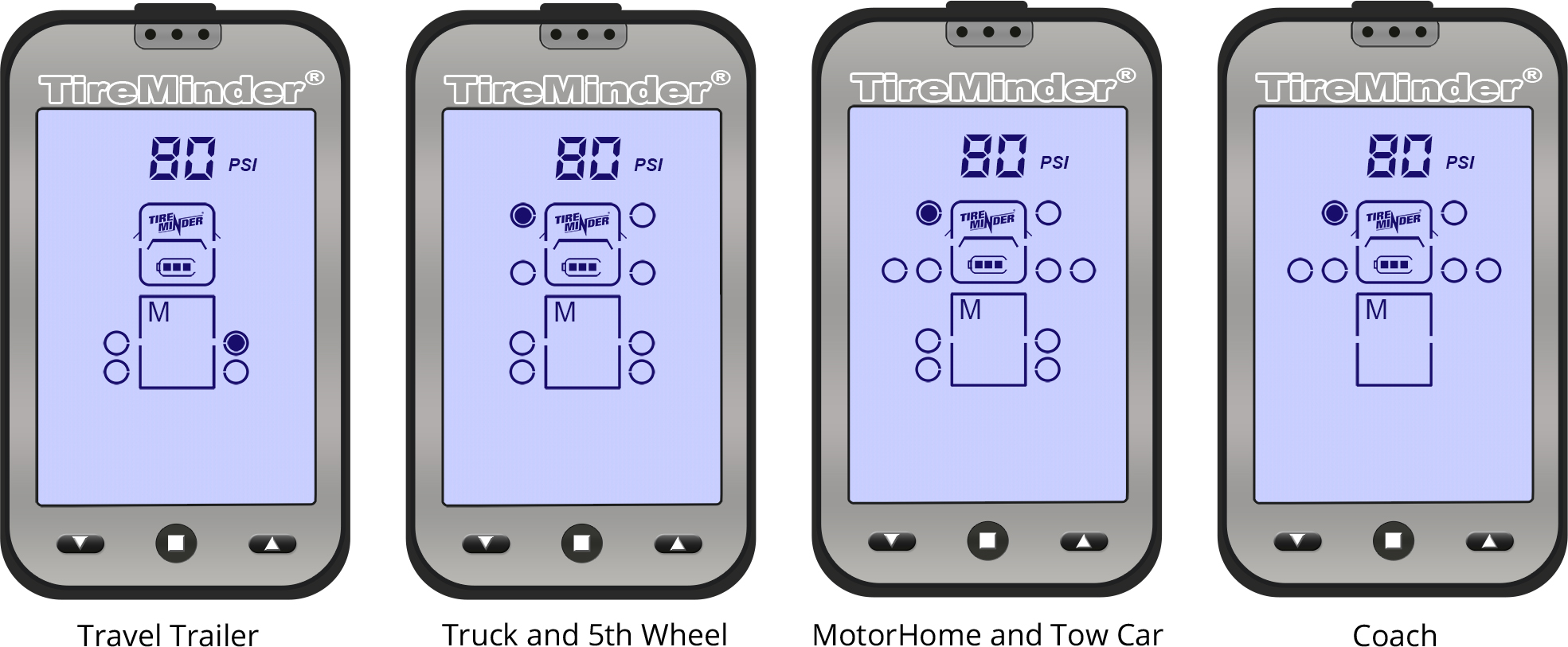 TireMinder TMG400C VS TireMinder A1A Comparison Table: var i=0,firstRowSpace="30%",stdRowSpace="35%",minWidth="90%",stdWidth="100%",imageTable=document.getElementById("imgTable"),imageCells=imageTable.getElementsByTagName("td"),tableImages=imageTable.getElementsByTagName("img"),comparisonTable=document.getElementById("cTable"),headerCells=comparisonTable.getElementsByTagName("thead")[0].getElementsByTagName("th"),tableCells=comparisonTable.getElementsByTagName("tbody")[0].getElementsByTagName("td");for(imageTable.style.width=stdWidth,imageTable.style.minWidth=minWidth,imageTable.style.backgroundColor="#fff",i=0;i<imageCells.length;i++)imageCells[i].style.width=i%3==0?firstRowSpace:stdRowSpace,imageCells[i].style.verticalAlign="bottom";for(i=0;i<tableImages.length;i++)tableImages[i].style.display="block",tableImages[i].style.margin="auto";for(comparisonTable.style.width=stdWidth,comparisonTable.style.minWidth=minWidth,i=0;i<headerCells.length;i++)headerCells[i].style.background="#000",headerCells[i].style.color="#fff",headerCells[i].style.padding="6px",headerCells[i].style.width=i%3==0?firstRowSpace:stdRowSpace;for(i=0;i<tableCells.length;i++)tableCells[i].style.background=i%3==0?"#eee":"#fff",tableCells[i].style.padding="6px",tableCells[i].style.border="1px solid #000";
TireMinder A1A User Manual:Link to technical support.
TireMinder A1A English PDF
TireMinder A1A French PDF

Model Number
TM-A1A-6
UPC
775053600285

TireMinder TMG400C Tire Pressure Monitoring System
TireMinder A1A Tire Pressure Monitoring System
Screen Dimensions (W X H)
31mm X 46mm
46mm X 66mm (Over 40% Larger)
Dimensions (W X H X D)
55mm X 90mm X 24mm
60mm X 105mm X 15mm (Almost 50% Thinner)
Weight
85g (3oz)
99g (3.5oz)
Sensor Dimensions (W X H X D)
(21 x 23 x 21mm) 0.8″ x 0.9″ x 0.8″
(21 x 23 x 21mm) 0.8″ x 0.9″ x 0.8″
Sensor Weight
(14,1 g) 0.5 oz
(14,1 g) 0.5 oz
Antenna
Standard Antenna
Upgraded, Multi-Directional Antenna
Pressure Range
0-149 PSI
0-232 PSI
Tire Count
22 Wheel
22 Wheel
Temperature Alert
167° F
167° F
Pressure Accuracy
(±0.3 Bar) ± 2.7 % PSI
(±0.3 Bar) ± 2.7 % PSI
Temperature Accuracy
(±3° C) ± 6° F – Does not replace the Weather Channel
(±3° C) ± 6° F – Does not replace the Weather Channel
Signal Booster Included
Yes
Yes
On/Off Button
No
Yes
Manual Pressure Update
No
Yes
Front/Rear Disconnect Mode
No
Yes
Updated User Interface
No
Yes
One Touch Reset
No
Yes
4 Minute Update Cycle
Yes
Yes
433Mhz Wireless Transmitters
Yes
Yes
Monitor Battery Life
2-4 Weeks
2-4 Weeks
Transmitter Battery Life
9-14 Months (Free Replacement with TireMinder Battery Replacement Program)
9-14 Months (Free Replacement with TireMinder Battery Replacement Program)
Charger
Proprietary
Micro USB (Average Smartphone Charger)
Outstanding "Real Person" Customer Support
Yes
Yes